Beautiful Orthodoxy: The Back Story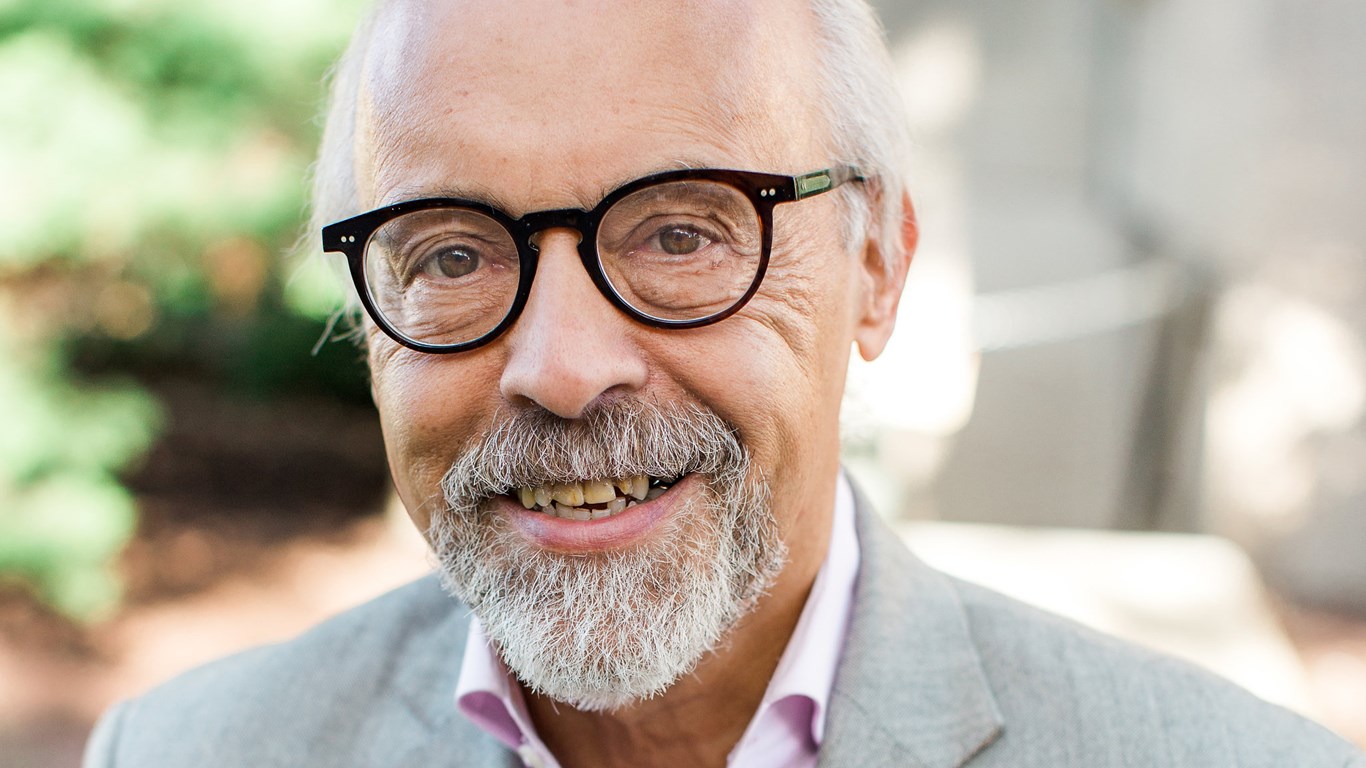 An interview with Christianity Today's President Emeritus Harold Smith.
Several months ago I sat in a large room filled with 80-or-so CT staffers. As I swirled spaghetti around my fork, I observed the normal quarterly-staff-luncheon activities: prayer, service awards, HR announcements. And then our president and CEO, Harold Smith, got up to address us, as he always does. But this time seemed different: he was visibly excited, hesitant, and passionate. He began to explain that he had a big new idea to present, one that would reshape our ministry and mission.
That day we saw just a snapshot of what we'd come to know as Beautiful Orthodoxy and "One CT." In the months following, a series of meetings and documents brought the details into focus. We're watching it take shape at 465 Gundersen (CT's headquarters in suburban Chicago) with new roles, departmental changes, and tweaks to our content. We're reinvisioning our brands under this initiative, which Inside Story previously covered. To give you a look at Beautiful Orthodoxy's roots, I spoke with Harold.
Let's say I'm not a staff member, just a reader or a Christian leader. Give me the quick pitch: What's Beautiful Orthodoxy and what does it mean at CT?
Let me answer that with the cause statement that came out of a recent meeting of the One CT Ministry Council (which is made up of key leaders from various departments): "In a world in desperate need of truth, goodness, and beauty, Christianity Today leads the church by richly communicating the breadth of the true, good, and beautiful gospel." In other words, this message of hope drives our content and models for all Christ followers the way of both conviction and love. That's Beautiful Orthodoxy.
When was this idea born in your mind? Why name this now?
The cause of Beautiful Orthodoxy has been a part of Christianity Today from the very beginning. That said, it was only when editor Mark Galli started referring to a beautiful orthodoxy that I thought about this strategic calling being one of CT's distinctives.
Back in the late 80s and early 90s, I would look around CT and see all these publications (at one time 14 magazines) and ask myself "What ties them all together?" "What makes this or that publication a CT publication?" From those early questions came the idea of "One CT" and more importantly the three distinctives that I feel should define everything we do here. That is: Beautiful Orthodoxy as our Core Cause, Leaders as our Core Readers, and Leading as our Core Calling. My prayer now is that these three distinctives would tie all of CT's brands together into "One CT."
How have the board and the staff reacted to One CT?
The Board's with us 100%—though that was not always the case. I first raised the "One CT" flag around 2008—or right about the time publishing as a whole seemed to be going into a death spiral. Not surprisingly, the Board rightly felt that the crisis facing CT at the time demanded my undivided attention. We were in survival mode.
But today, having reached a degree of stability and with 2015 looking ever more positive, the Board feels strongly that now is the time to strengthen the connection between CT brands. To make the operation, if you will, "One CT."
As for the staff, I've been overwhelmed by the multiple emails, suggestions, and edits I've received, all encouraging me and offering me great insights into how best to employ One CT's distinctives across the ministry. I've been especially pumped by the One CT Ministry Council, which we formed to propel this idea. Council members are engaging and defining each of One CT's distinctives and suggesting creative ways they might be incorporated across all brands in the ministry. The success of One CT will be the result of a whole staff effort. And this staff has been coming on strong. It's very cool.
You've announced Mark Galli's shift to editor in chief over the entire ministry. What other changes is this initiating at 465 Gundersen?
Mark's expanded role is indeed one of the more strategic moves we'll be making in relation to One CT. Mark came up with the term Beautiful Orthodoxy. Not surprisingly then, my decision to make him editor-in-chief was based, in part, on having him eventually interact with all our lead editors on how Beautiful Orthodoxy might play more visibly on brand pages and sites.
One other major change that has One CT implications is the start of our Mission Advancement Department, with Chief Operations Officer Carol Thompson overseeing the team of Cory Whitehead, Skye Jethani, and Diana Prange. The mandate on this team is to find ways of leveraging the compelling cause of Beautiful Orthodoxy into greater donor support. Cory has especially been on the point here, working on a funding case statement that showcases Beautiful Orthodoxy. And Skye is in the process of setting up two donor cultivation evenings (in Portland and Manhattan) where Beautiful Orthodoxy will play a featured role. Both events will take place in March.
Now you mentioned that Beautiful Orthodoxy has actually been at the heart of the ministry since its founding. So today's manifestation is not so much a new initiative as it is a rediscovery of something that's in our DNA?
Yes, it's a rediscovery of Billy Graham's vision for this ministry from 1956. At that time, Graham said: "[We] should take the responsibility of leading in love, what so much of our evangelical work has failed to do in fighting and name calling." Funny. That almost sounds like he was talking about 2015!
Rather than being "just" a collection of individual Christian publications and sites (sort of a Christian Time-Warner), I've always wanted CT to be a ministry of related brands driven by a unique, unifying cause—what we today call Beautiful Orthodoxy. I have no interest in building a publishing empire made up of disparate brands. I do have an interest in strengthening Christ's church as it, in turn, positively engages culture. And that's what our content—however it's delivered—will more and more seek to do in the days ahead.
Tell us a little about your recent travels. How are people engaging with the idea?
Starting now and continuing well into May, I'm scheduled to be somewhere every week: A combination of speaking engagements, fundraising evenings, Board responsibilities, and so on. And I've been playing the theme of Beautiful Orthodoxy where appropriate. In September, for example, I was asked to attend an event involving the executive staffs of about 13 Christian colleges and universities. In the 11th hour—quite literally—I was asked to respond to a paper that several times referenced the problem of "ugly orthodoxy." You can guess what my response was based on—Beautiful Orthodoxy. That, and the related opportunities colleges and universities have to instill such an orthodoxy into the lives of their students. Well, I think it worked. In fact, one major college (and CT!) donor came up to me and enthusiastically thanked me for my remarks. For which I enthusiastically thanked God—and Mark Galli.
Why is Christianity Today and Beautiful Orthodoxy needed now more than ever?
Just check out social media. Watch the news. Read a blog. As Mark Galli so artfully said in his paper on Beautiful Orthodoxy, there is a meanness, an arrogance in communications today that has no place among those called by God to serve the Risen King and his creation. Therefore, through our content, at our events, in our speaking, we must model a better way to the church. A Christ honoring way. Ultimately a redemptive way. Or to again quote the Ministry Council on Beautiful Orthodoxy: "We lead the church by richly communicating the breadth of the true, good, and beautiful gospel."
Learn more about Christianity Today's ministry cause of Beautiful Orthodoxy
Andie Roeder Moody is an assistant editor and marketer at Christianity Today.