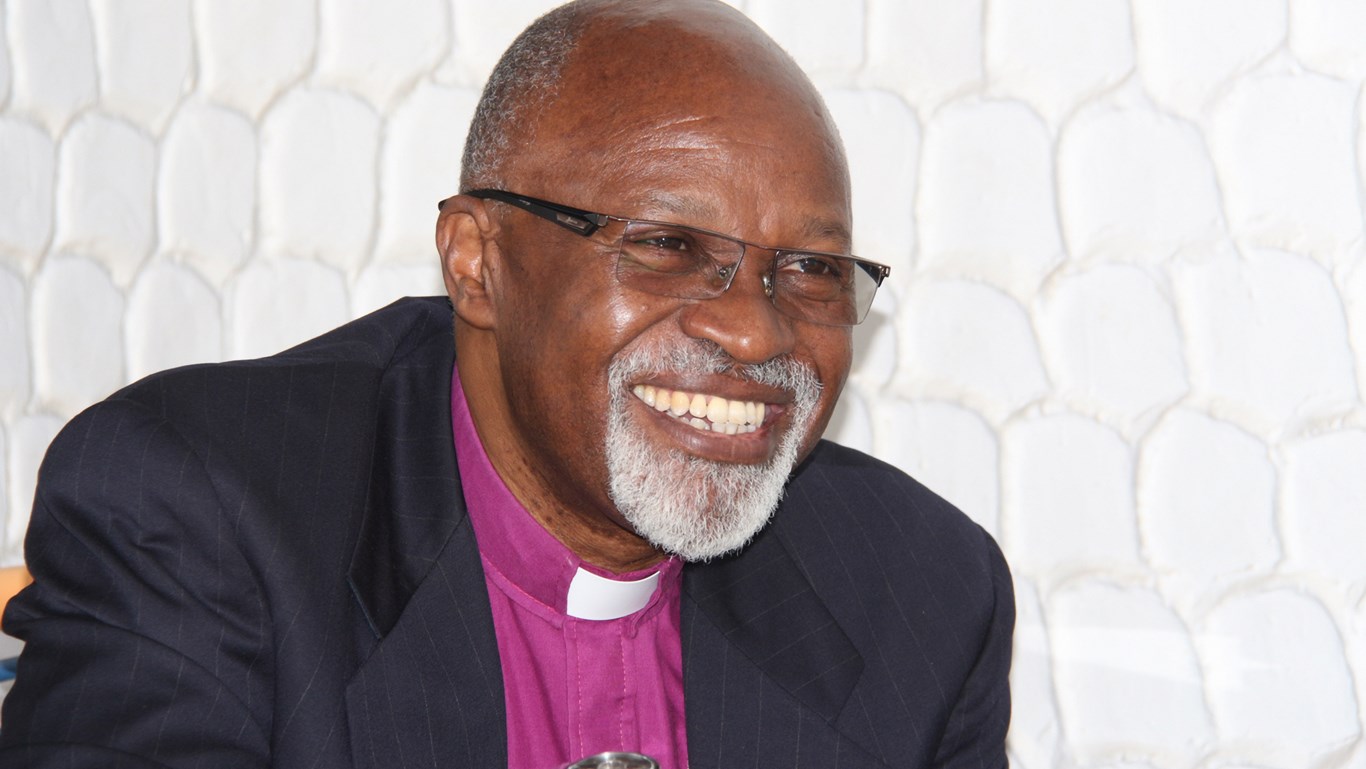 Ugandan bishop David Zac Niringiye's challenge to the CT staff.
Earlier this year, a former leader in the Ugandan Anglican church was giving a guest lecture at an American seminary in the United States.
"A young American white man asked me, 'Bishop Zac, how can we help you?'" recounted theologian, pastor, and HIV/AIDS activist David Zac Niringiye, in a talk addressing the Christianity Today staff this spring. "I thanked him for that question and I said, 'That's precisely the issue. Who told you I need your help?'"
Bishop Zac has no qualms about challenging people's assumptions—especially with regards to the West's beliefs about Africa.
"Brother, we don't need your help," he said, as he continued the story. "Why? Because there is another false narrative which is the narrative of superiority. Let me be bold: white America, you have a challenge because you have a narrative of superiority."
White American Christians were not the only ones susceptible to narratives, he suggested.
"[There's] a myth that created a certain narrative about what it means to be African. An African feels inferior to a white man. That is a tragedy," he said. "…What Africans must do is repent of this view of inferiority. We must take responsibility for our narratives."
According to Bishop Zac, the continent's difficulties don't stem from the usual suspects, like poverty or HIV/AIDS.
"It's a confidence crisis," he said. "Many years of colonial oppression created a situation in which Africans started to believe they were inferior."
Bishop Zac's path first crossed with Christianity Today when he was a Master's student studying theology at Wheaton College, a period in which he first connected with President and CEO Harold Smith at church. After graduating with a bachelor's in physics, his life took an unexpected pivot after his spiritual mentor encouraged him to pursue pastoral ministry. Bishop Zac later received his doctorate in theology and mission history from Edinburgh University.
His international experiences have been invaluable in his own formation, Bishop Zac acknowledged, before adding, "Guys, may I plead with you. Live in a different country."
He then poked fun at the obstacles that cross-cultural living presented, recounting a church potluck he attended soon after he arrived in the United States.
"Some of the things I remember really struck me," he said. "First of all, there were potatoes. We're like, 'Yeah, we know potatoes.' … And they were cold. Potato salad."
He thought the rice looked similar but it didn't taste the same. He was similarly baffled by the appearance of bread, a breakfast food back in Uganda.
"There was tea. Everybody loves tea. … And then it was iced tea."
"Just so you know. Everything's wrong with you," he quipped.
Despite his levity, recent years have been stressful for Bishop Zac, as he noted several recent attempts on his life made following his criticism of the Ugandan government. He recently returned to his country following a three-month guest stint at Wheaton College.
"Here is one of the things I am struggling with: how the concept of the common good is lacking in our theology," he said.
This lack of common good often manifests in resource and social inequities, depriving people of equal access. These realities are present under the current Ugandan government but were also true when missionaries moved across the continent.
"In Kenya if you say you are Anglican, we can most likely tell you what tribe you are from. If you say you're Presbyterian, we know which region. If you say you are evangelical, we know where you come from," he explained.
Ultimately, dividing people, whether by religious denomination or geography, made it difficult for a "common good" to exist, he said.
"The issue of identity is how we inhabit public spaces together," he said.
Christianity Today's Culture, Diversity, and Innovation (CDI) task force's mandate—to help the CT staff and content more fully reflect the racial and ethnic diversity of the North American church—showed that times had changed, he said.
"When I came here in 1985, this wasn't a conversation we had," said Bishop Zac. "I am grateful that this is a conversation you are having."
CDI's first leader, Andy Crouch acknowledged this in a document he wrote explaining the purpose of the task force.
"CT is embedded in a network of Christian institutions that have been slower than American culture, or even the church as a whole, to achieve racial and ethnic diversity at all levels of participation and leadership," wrote Crouch. "With notable exceptions past and present, our staff remains more ethnically homogenous than the church we seek to represent and serve. We do not look, think, or communicate like the North American church today in all its diversity—let alone the thriving evangelicalism of the next generation."
One part of working toward CT's ultimate goal of a more representative workplace is intentionally creating spaces to expose staff to underrepresented perspectives, said Theresa Hoffner, CT's vice president of technology and operations, who now leads CDI.
"Because we have so little racial and ethnic diversity on our current team, it is important to start hearing from people who are part of the CT family, but who come from different cultures and backgrounds," said Hoffner. "This establishes a posture within our team of listening to and engaging with others. It also helps us build relationships with other believers who, while like-minded in many ways, may be on the edges or outside of our normal networks."
CDI comes at an interesting time in church history, noted Bishop Zac.
"Let me tell you what you have to deal with. You have to face up to a world that is different," he said. "The world in which white people dominated the world. That world is gone."
"Hallelujah. Thank you, Jesus."
Morgan Lee is an assistant editor of Christianity Today.