Russell Moore Reads CT Because of CCM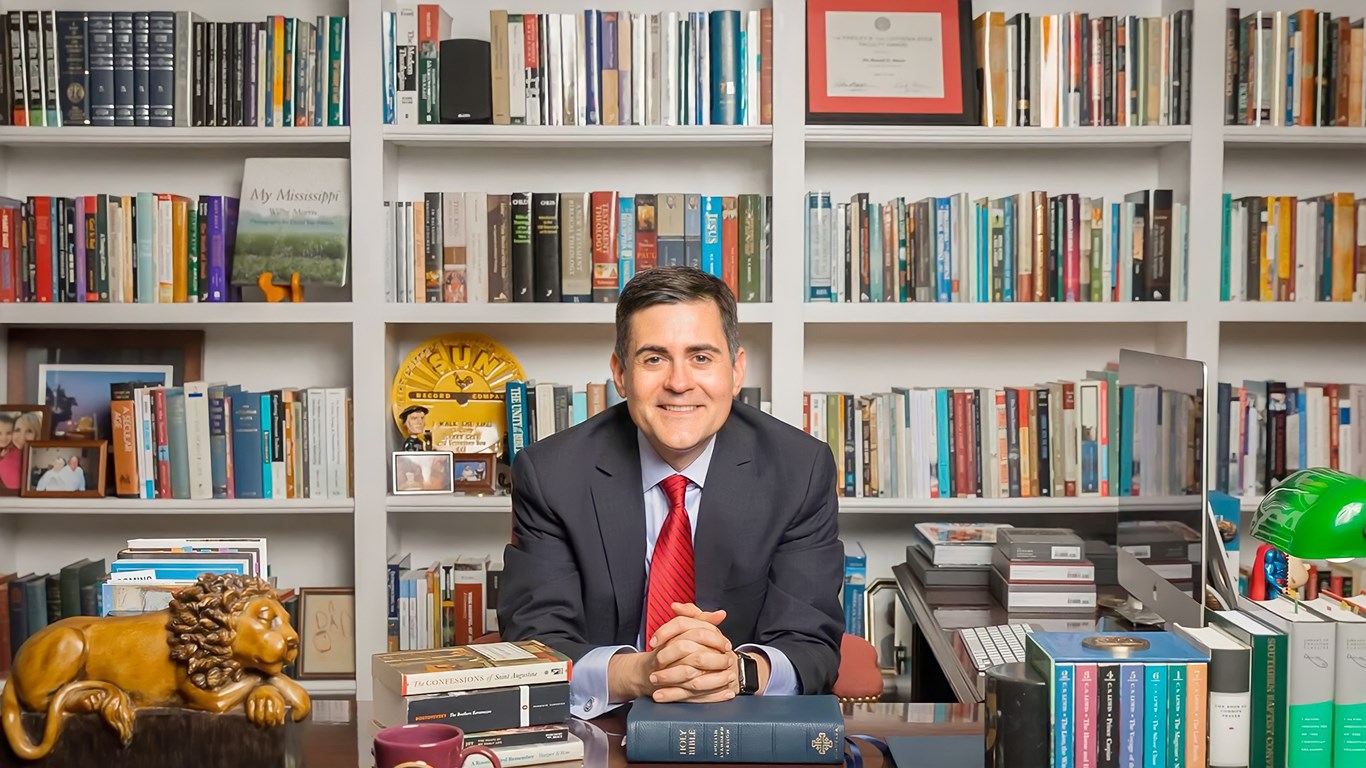 How Philip Yancey and other CT columnists transformed the Southern Baptist leader's faith.
As a young person, Russell Moore may have been contemporary Christian music's biggest fan.
"Yes, the kind that many would dismiss as kitsch," the president of the Southern Baptist Convention's Ethics and Religious Liberty Commission wrote recently. "I listened to every word sung by artists ranging from Amy Grant to Petra."
His fandom led him to the industry publication, CCM, where his favorite columnist mentioned a man named Philip Yancey—a prolific author who also happened to be a columnist at Christianity Today.
"I found Yancey's column in an issue of CT, probably in the public library, and it electrified me," wrote Moore. "Yancey clearly had seen the same stuff I had seen in purportedly 'Christian' subcultures—the racism, the immorality, the violence, the legalism—but he loved and trusted Jesus, and he pictured him just as I knew him to be, as beautiful, as full of both truth and grace."
Shortly after encountering Yancey, Moore began reading other CT columnists like J. I. Packer and Charles Colson.
"They were theologically robust, not cliches and slogans," he wrote. "Each month these columns became for me a kind of Radio Free Bible Belt, dispatches from a place where evangelicals stood with courage for the total truthfulness of God's word and did so not as angry, dispirited sectarians but as ambassadors of a gospel that is good tidings of great joy, which shall be to all peoples."
Moore's praise for the publication came after he won its 2019 Beautiful Orthodoxy book of the year, the top book award prize for the second time, on this occasion for The Storm-Tossed Family. (His Onward also won the award in 2016.) And it may be yet another sign that his own writing may have a similar impact on the next generation as those of the CT columnists he lauds.
He isn't sure, but Moore thinks his first article for CT came shortly after 9/11. Since then, he's been the focus of a 2015 cover story, he's written about the mainliner who made him more evangelical, whether Christians should vote for the lesser of two evils, and a cover story about the state of Christian hip hop.
Not surprisingly, given the scope of his writings for CT, one of the things Moore appreciates about the publication is its broad appeal.
"CT is a village green for American and global evangelicalism where people from various tribes can interact with one another and with the outside world," said Moore.
One section that showcases this diversity is the popular back page Testimony section where people from a diversity of backgrounds give a firsthand account of how they found Christ.
"It doesn't fall into "Here's a celebrity, pay attention to this person because of how successful he or she has been in business or athletics,'" said Moore. "There's such a variety of people testifying to God's grace in a variety of ways."
These stories are impactful for Moore personally as a Christian but also because he knows many non-Christians read the publication to better understand evangelicalism.
"Having an every issue reminder of the core of the gospel ties everything together," said Moore. "CT gives an accurate sense that Christianity is not full of people in the same group but people who experience the same grace."
Prior to his current public policy role, Moore worked as a seminary administrator where he observed that many of the students attending his Southern Baptist employer first learned about the seminary after seeing ads for it in CT.
"I was surprised by how large that number was, even a decade ago, when the standard thought was that millennials don't read magazines," he said. "That wasn't apparently the case!"
Whether they're from a generation known for its reading habits or lack thereof, Moore says CT offers its audience an opportunity to "learn across the spectrum of evangelical Christianity" even though it still is "bounded" and "not an ecumenical Christian magazine."
"Christianity Today is a meeting place in the media where we can learn from each other and this is important," he said. "CT holds a biblical balance of conviction and application."
Further, the ministry's mission is one that resonates with the work that Moore seeks to do with his own life.
"I'm not sure that I measure up, or ever will, to that standard of 'Beautiful Orthodoxy' in my writing, but I aspire to do so," he wrote. "And if I ever reach it, you can know that, I learned it from CT."
Morgan Lee is digital media producer at Christianity Today.