My CT Article on Dorothy Sayers Led to a Book Contract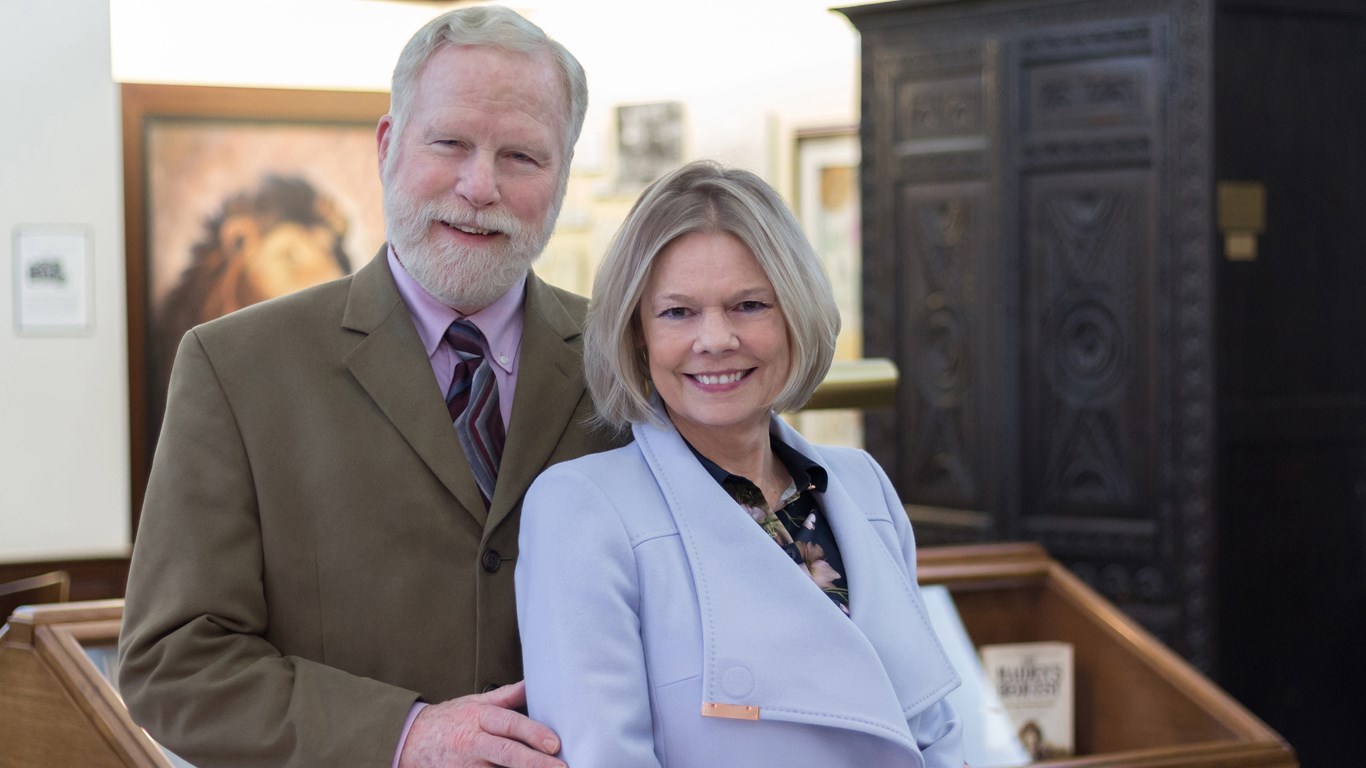 Image: Photo Courtesy of Marion E. Wade Center
Why supporting CT's work around the Christian imagination is vital to reaching the next generation.
Crystal Downing, codirector of the Marion E. Wade Center at Wheaton College, wrote an article for CT magazine four years ago that launched her most recent book on Dorothy L. Sayers, the renowned English playwright and crime writer.
Her essay for CT titled "Dorothy Sayers Did Not Want to Be a Prophet" led to a book contract with Broadleaf Press. She argued that Sayers "prophetically challenged the signs of her times," and her book Subversive: Christ, Culture, and the Shocking Dorothy L. Sayers was published in 2020. The book was honored with a starred review from Publishers Weekly, which selected it as a "Pick of the Week" when released: quite amazing for a book emphatically endorsing Christian orthodoxy. "This is an author's dream," she said.
She and her husband, David, sold their house in Pennsylvania to move to Illinois for their role as codirectors of the Wade Center on the same day she turned in her CT essay.
They moved in 2018—and around that same time, they received a subscription to CT.
"We appreciate having a reasonable voice like CT that represents orthodox Christianity. It's not reflective of a particular denomination," David said. "We like to read CT articles because writers are always knowledgeable, thoughtful, and write in a civil tone."
Crystal cited two CT articles in her book: a Lifeway Research report about Americans with evangelical beliefs, and an article from 2018, recounting the sins of CT's past.
"I used that confession from CT to talk about contemporary political sins and I think that's why this book is doing so well," Crystal said.
Her essay recounts a series of BBC broadcasts Sayers wrote between 1941 and 1944. "Sayers's BBC broadcasts, in fact, incited one of the biggest religious controversies in England since Henry VIII broke with Rome," it argues. Sayers told Jesus' story in these plays, without using King James Version English. This was extremely controversial at the time.
Because of the deadline, "I had to write about Sayers from the top of my head. It forced me to write for a more popular audience, not an academic audience," Crystal said. When CT published the essay, she received emails from all over the world.
"An editor reached out to me and said, 'I read your Christianity Today article about Dorothy Sayers. I want you to write a whole book on this woman.'
"It was wonderful!"" Crystal said. "Not only being commissioned to write an article on Sayers but being able to use reports and essays and an editorial from CT, which made it a better book."
Crystal had written 18 articles for CT's former imprint Books and Culture (which was published for 21 years), before she wrote her CT article on Dorothy Sayers.
"I was a regular contributor to Books and Culture, and that inspired me to write a book on film and religion [Salvation from Cinema: The Medium is the Message]." She also explained that this book is now required reading at many secular universities in the US.
"Many of the film I analyze in the book were inspired by reviews published in Books and Culture," she said.
She met David at Westmont College in Santa Barbara, California.
"I was struggling to come up with a more emotionally satisfying faith," he said. The apologetics course he was enrolled in was making him feel discouraged. But his literature course proved to be a saving grace, as he read Perelandra, the second book of the space trilogy by C. S. Lewis.
"Here was a work of fiction that appealed to my imagination and addressed some questions I was struggling with." He wrote a paper for his literature professor at Westmont titled "C. S. Lewis, Apostle to the Imagination."
His paper grappled with man's search for meaning and Lewis's keen awareness that the human imagination can lead people to God. His essay says, "One of Lewis' primary goals in the space trilogy (Out of the Silent Planet, Perelandra, and That Hideous Strength) is to instill a profound sense of the reality of the supernatural in the minds of his readers."
His professor said, "I have a friend who's an editor at Christianity Today, and I'm going to send it to him and see what he thinks."
David's parents had subscribed to CT when he was a teenager. "It was one of the few things I thought was edifying," he said.
Fifty years ago—when David was still struggling with his faith—a college friend of his suggested he read an article about C. S. Lewis to help him with his thinking.
"He handed me a copy of CT, and I looked up the article on C. S. Lewis. It was my paper that I had written," he said. "I felt ministered to by my own article."
That was David's first introduction to CT as an author.
"It's hard to find the middle ground, what Lewis called Mere Christianity. One critic said of Lewis, 'He makes righteousness readable.' I might say the same of CT," he said.
He also appreciated how CT is reaching people through podcasts, like The Rise and Fall of Mars Hill, telling the story of Seattle's Mars Hill Church and its spiraling collapse in 2014. In its first year, the podcast had more than nine million unique listeners.
"I've appreciated CT's podcast for a willingness to be candid about where we as a Christian community are succeeding and being a light to the world, while also exploring areas in which we need improvement and falling short of what Christ would have us to do," David said.
David and Crystal recently became Sustaining Partners of CT to show their support of the important voice CT has in the church and the world
The Downings said they appreciate CT's new addition of Ekstasis magazine and its focus on the Christian imagination. David said, "I have some former students who wrote for Ekstasis. It's beautifully produced, and it appeals to the senses and the imagination, not just the intellect."
"The End of Desire" was Crystal's favorite essay in Ekstasis, because it drew attention to Charles Williams, one of the seven British Christian authors archived at the Wade Center.
"We [at the Wade Center] also have a museum. We have Lewis's writing desk where he wrote Mere Christianity and the Narnia Chronicles, Tolkien's writing desk where he wrote The Hobbit and The Lord of the Rings. And, best of all, we have the wardrobe from C.S. Lewis's childhood home," David said.
Other authors spotlighted at the Wade Center include Sayers, Owen Barfield, G. K. Chesterton, and George McDonald.
"It's wise of the people at CT to try to understand how we convey the message of salvation to a new generation. We can't simply assume that the way the gospel was passed to us can be transmitted to the next generation," David said.
Kelsey Bowse is a UX Strategist at Christianity Today. Follow Kelsey on Twitter @ kelseybowse