It started with a vision. And that visionary was Billy Graham.
In a letter to a friend nearly seven decades ago, Billy Graham described a vision that came to him in the middle of the night:
"I was awakened one morning about 2 o'clock. I went to my desk, using a desk light so I would not awaken my wife, and I sat down and wrote out everything that came to my mind concerning a new magazine. I am sure that the Holy Spirit was inspiring me, and speaking through me…I named it Christianity Today."
Graham launched CT in 1956 with the help of friends and generous partners. Christianity Today set out to become, in Graham's words, a "flag to follow" for believers who did not feel at home in progressive mainline congregations or in reactionary fundamentalist settings. It would "restore intellectual respectability and spiritual impact to evangelical Christianity."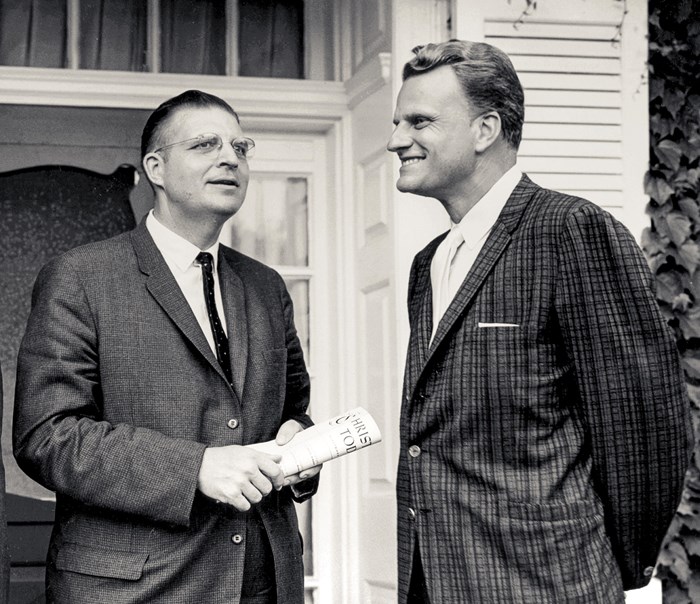 Image: CT Archives
Writing in his memoir decades later, Graham assessed that the launch of the magazine "helped change the profile of the American church." It served as a voice to the church as well as a voice from the church into the culture.
Now, Christianity Today is a global ministry that reaches 50 million people per year across all media, advancing every single day the stories and ideas of the kingdom of God.
Graham's vision carries on, and we steward a remarkable legacy and honor the labors of those who went before us. We are even more excited about our future than our past. Ours is a season of innovation and new growth. With in-depth reporting and striking commentary, redemptive storytelling and global perspective, groundbreaking podcasts and dynamic talent, we have shown that we can shift the conversation.
In fact, more people read our content today than ever before, including more young people (40 percent of the audience is between 18-34 years of age) and more men and women outside the United States (over a third of the readership is international).